With determination and perseverance, we achieve hope, and with commitment to quality, we continue and remain. With these words, Mr. Mohammed Yusuf, the owner of Ammar Optician Company, confirmed that this pioneering project which started from scratch in 2001, has undoubtedly become a difficult number in the optical market in the Kingdom of Bahrain and that is by adopting two basic approches, which are persistence and adopting quality in work. Ammar Optician, and through adherence to the basic principles of work and a serious desire to maintain the remarkable existent in the market with continuance development clear plan, as well as, heading to more advanced goals in the health sector until we fill full our planned goals.
Ammar Optician Company, started its first steps in the year 2001 , was and still one of the best optics and hearing companies in the Kingdom of Bahrain to provide the best services in the field of optics and hearing aids with  the best brands , which encouraged insurance companies have deals with us like Takaful International, Tazur, Gig Bahrain, Bnl, Solidarity, Snic, Arabia Insurance, Medgulf Takaful etc, through various providers.
Now in 2019 Ammar Optician have 10 branches spread across Bahrain represented in a main branch in Al-Muqshaa, Al-Daih, Sitra, Qalali, Darkulaib , Sooq Waqif Jidali and two branches recently opened in Ramli Mall – A'ali –  Al Reem Center in Riffa and The Vilage in Al-Dair.
From Bahrain to Oman:
In 2012 , we expanded our business by opening an optical shop at Sultanate of Oman at the state of Sohar. In 2019, this branch was converted to a specialized medical center for eyes that contains an eye clinic and an eyewear section. In 2020, it was moved to the new headquarters on the street General in Al-Turaif – Sohar, and this is the current headquarters of the Ammar Specialest Eye Center, which is a new 3 floors building with 600 Sqm. which is exclusively only for the center. Each floor fully equipped with the most modern medical equipment especially first floor reserved only for operations and procedures. Any complicated type of operational procedures related to eyes are done in this new space by our Consultant doctors with high confidence and accurate results. The flow of patients showing the trust and belief in us is considered the most pleasurable moments for Ammar Specialist Eye Center.
The Third stage in our strategy will be opening more branches in Oman in different areas and then opening our future hospital which will be more advance step in doing advance services in eye field.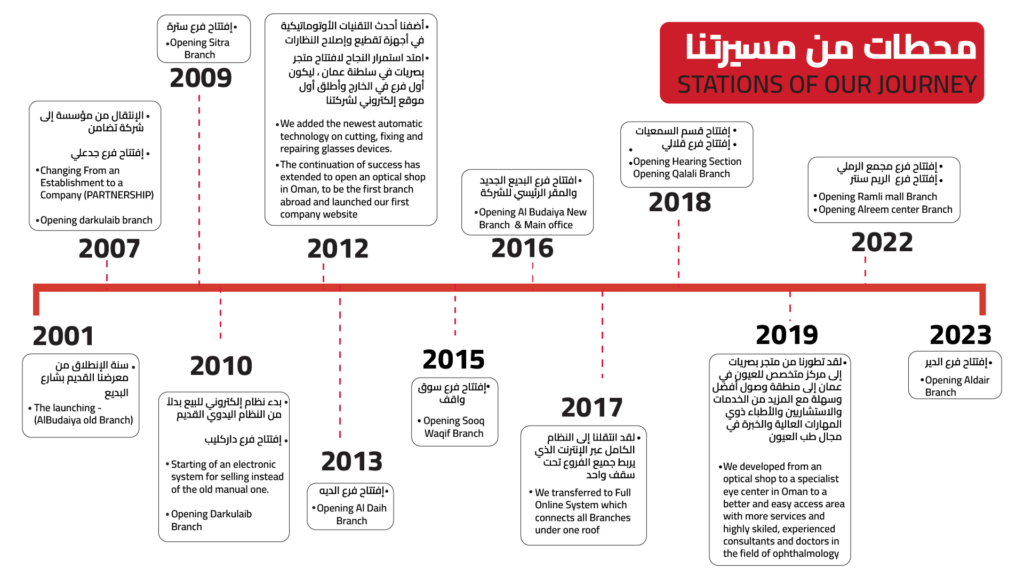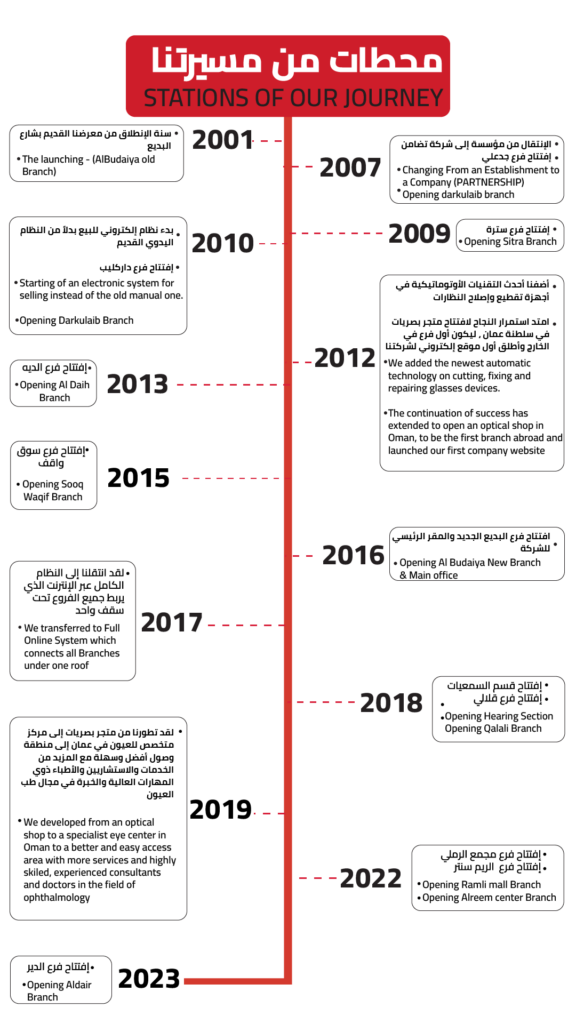 Quality Vision, Our Mission
We aim to ensure equality in maintaining proper eyesight in community via high equality methods with competitive prices and best services.
To be advanced locally and regionally in the field of optics under accurate planes, and periodic updates in regard to consumers trust and satisfaction.